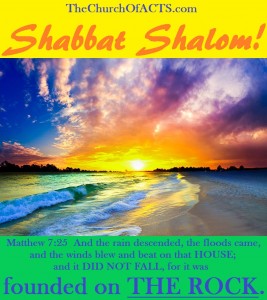 Salvation is determined by keeping God's Commandments.  That is what God's Son declared to all who would believe/obey him and be his disciples.
God's Son declares many times The Way to salvation/eternal life is keeping his Father's Commandments:
Revelation 22:14
14 Blessed are those who do His commandments, that they may have the right to the tree of life, and may enter through the gates into the city.
Matthew 19:17
17 So He said to him, "Why do you call Me good? No one is good but One, that is, God. But if you want to enter into life, keep the commandments."
And there are several others.  Let's look at one of the others that is not so obvious and takes a little study to understand:
Luke 6:48
48 He is like a man building a house, who dug deep and laid the foundation on the rock. And when the flood arose, the stream beat vehemently against that house, and could not shake it, for it was founded on THE ROCK.
THE ROCK is a direct reference to Scriptures in THE LAW and The Prophets!
Since we know God's Son does not have any doctrine of his own, has no word of his own, has no authority of his own, and has no commandments of his own, then we know when God's Son mentions THE ROCK that he is talking about his Father YHVH.
So, we go to the Scriptures and let the Scriptures interpret themselves and find these verses to understand what THE ROCK IS:
Deuteronomy 32:15
15 "But Jeshurun grew fat and kicked;
You grew fat, you grew thick,
You are obese!
Then he forsook God who made him,
And scornfully esteemed THE ROCK of his SALVATION.
Deuteronomy 32:18
18 Of THE ROCK who begot you, you are unmindful,
And have forgotten the God who fathered you.
1 Samuel 23:28
28 Therefore Saul returned from pursuing David, and went against the Philistines; so they called that place THE ROCK of Escape.
2 Samuel 22:47
47 "YHVH lives!
Blessed be MY ROCK!
Let God be exalted,
THE ROCK of my salvation!
Job 29:6
6 When my steps were bathed with cream,[a]
And THE ROCK poured out rivers of oil for me!
Psalm 61:2
2 From the end of the earth I will cry to You,
When my heart is overwhelmed;
Lead me to THE ROCK that is higher than I.
Psalm 81:15-16
15 The haters of YHVH would pretend submission to Him,
But their fate would endure forever.
16 He would have fed them also with the finest of wheat;
And with honey from THE ROCK I would have satisfied you.
Psalm 89:26
26 He shall cry to Me, 'You are my Father,
My God, and THE ROCK of my salvation.'
Isaiah 17:10
10 Because you have forgotten the God of your SALVATION,
And have not been mindful of THE ROCK of your stronghold,
Therefore you will plant pleasant plants
And set out foreign seedlings;
Isaiah 51:1
"Listen to Me, you who follow after RIGHTEOUSNESS,
You who seek YHVH:
Look to THE ROCK from which you were hewn,
And to the hole of the pit from which you were dug.
Deuteronomy 32:31
31 For their rock is not like OUR ROCK,
Even our enemies themselves being judges.
2 Samuel 22:2
2 And he said:
"YHVH is MY ROCK and my fortress and my deliverer
Psalm 18:2
2 YHVH is MY ROCK and my fortress and my deliverer;
My God, my strength, in whom I will trust;
My shield and the horn of my SALVATION, my stronghold.
Psalm 62:2
2 He (YHVH) only is MY ROCK and my SALVATION;
He is my defense;
I shall not be greatly moved.
Psalm 71:3
3 Be my strong refuge,
To which I may resort continually;
You have given THE COMMANDMENT to SAVE me,
For You are MY ROCK and my fortress.
Psalm 92:15
15 To declare that YHVH is upright;
He is MY ROCK, and there is no unrighteousness in Him.
Deuteronomy 32:4
4 He is THE ROCK, His WORK is perfect;
For all His ways are justice,
A God of truth and without injustice;
Righteous and upright is He.
Are you starting to get the picture God's Son declared that keeping the Sabbath Holy and obeying ALL the Commandments his Father gave to the children of Israel is the ONLY WAY anyone can enter into salvation/eternal life?
What happens to people who reject keeping YHVH our Father's Commandments who reject keeping The Sabbath Holy and who reject keeping ALL the Commandments our Father gave to the children of Israel, which is The Gospel as written in Hebrews 4:2, which is The Way Paul spoke of, and is the only basis for salvation?
Revelation 6:15-16
15 And the kings of the earth, the great men, the rich men, the commanders,[a] the mighty men, every slave and every free man, hid themselves IN THE CAVES AND IN THE ROCKS OF THE MOUNTAINS, 16 and said to the mountains and rocks, "Fall on us and hide us from THE FACE of Him who sits on the throne and from the wrath of the Lamb!
REMEMBER the Sabbath to KEEP it Holy!
Shabbat Shalom!