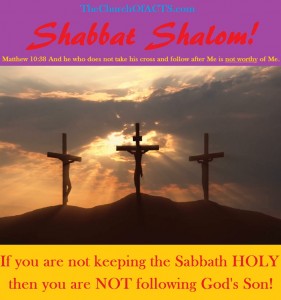 If you murder people, you do not follow God's Son…
If you do not keep the Sabbath Holy, you do not follow God's Son…
If you commit adultery, you do not follow God's Son…
If you do not keep the Sabbath Holy, you do not follow God's Son…
If you covet/lust after your neighbor's wife, you do not follow God's Son…
If you do not keep the Sabbath Holy, you do not follow God's Son…
If you dishonor your mother and father, you do not follow God's Son…
If you do not keep the Sabbath Holy, you do not follow God's Son…
If you steal, you do not follow God's Son…
If you do not keep the Sabbath Holy, you do not follow God's Son…
If you misrepresent God the Father in any way (take His Name in vain), then you do not follow God's Son…
You have been tricked into following something else that is not God's Son nor his Father.
God the Father set up His Sabbath as a time when we shut down all other activities in our life, keep that 24 hours Holy and CLEAN, read and study His Scriptures, pray, sing praise to Him, and teach our families how to be in His Will by keeping all of His Commandments.
All Gentiles are required by God and His Son to repent, come into Israel, and keep all His Commandments.  Isaiah 56,  Exodus 12:49,  Leviticus 24:22, Numbers 15:16, Numbers 15:29, Number 15:30, Deuteronomy 31:12, Revelation 22:14, Revelation 12:17, Revelation 14:12, Matthew 6:33, Matthew 19:17 etc…
God's Son does not have any commandments of his own and does not have any doctrine of his own and he specifically says so.  John 14:24 , John 7:16
Beginning in early 4th century, evil men came into the church and started changing things and called these false changes theologies.
These evil men, called theologians, created fantasy doctrines that transformed Christian life to be vastly different than the life God's Son lived.
Rest assured God's Son lived the true Faith.  Acts 3:16
Rest assured God's Son lived the faith once delivered to the Saints.  Jude 1:3
Rest assured that if you are not living like God's Son lived then you are not in the Faith.  2 Corinthians 13:5
Rest assured that if you are not taught to keep the Sabbath then you got involved with false teaching.  Deuteronomy 13:5
Paul instructs us to be the IMAGE of God's Son.  Romans 8:29
God's Son is the IMAGE of his Father.  Colossians 1:15
If you are not keeping the Sabbath, then it is impossible to be the IMAGE of God's Son.  Numbers 15:32-36
The unholy Roman Catholic Church started these false doctrines and to this very day almost all Christians still follow most of these false doctrines even is they are Protestants, Independents, and non-Denominational.  Catholicism is a harlot, prostitute, fake religion.
God's Son was murdered on the cross by people in the fake religion of Judaism because he kept his Father's Commandments and would not compromise.
Taking up the cross means keeping the Commandments of God our Father.
Matthew 10:38  And he who does not take his cross and follow after Me is not worthy of Me.
You cannot be a follower/disciple of God's Son unless you are like him.
Matthew 10:25  It is enough for a disciple that he be like his teacher, and a servant like his master.
If you do not keep the Sabbath Holy, you do not follow God's Son…
Come out of the Harlot, my people!
Shabbat Shalom.