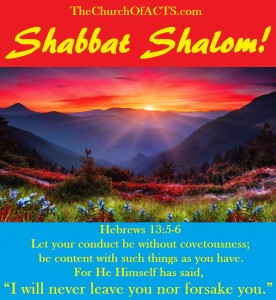 Who said that?  (Deuteronomy 31:6)
Did God's Son says that?  NO.
The writer of Hebrews quotes Deuteronomy 31:6
YHVH the Father alone is God/Elohim.
His Son is not God, His Son is the Father's IMAGE.
That is how if you have seen His Son then you have seen Him.
There is only ONE God/Elohim.  If a person rejects keeping THE LAW of YHVH then they cannot be ONE with Him or His Son.
The only way in which God's Son shares in his Father's Glory is by being a totally willing vessel that the Father's Torah/Light flows through.
That concept is basic Deuteronomy 18:15-19
That is WHY God's Son is our example of how to live and act and behave, in this world.
Paul says we are to be the IMAGE if God's Son.  Romans 8:29
That is the only Way, God's Spirit can live in us.
If any of us rejects keeping the Father's LAW, then just like what happened to Samson, the Father withdraws His Spirit from us and we do not even know it.  Judges 16:20
All men on the earth are predestined to be the IMAGE of God's Son and keep our Father's LAW to be His IMAGE.
Matthew 22:14  "For many are called, but few are chosen."
Hebrews 13:5 is quoting and demanding that believers obey the Torah and eliminate coveting from their lives!
And who does the writer of Hebrews says is The Helper?
Hebrews 13:5-6
5 Let your conduct be without covetousness; be content with such things as you have. For He Himself has said, "I will never leave you nor forsake you." 6 So we may boldly say:
"YHVH is my Helper;
I will not fear.
What can man do to me?"
And what did God's Son say about The Helper?
John 14:26
26 But the Helper, the Holy Spirit, whom the Father will send in My name, He will teach you all things, and bring to your remembrance all things that I said to you.
The Holy Spirit is The Father.  It is not His full Presence or we would burn up.
Why do you think Moses shined like a LIGHT?
Deuteronomy 6:4  "Hear, O Israel: YHVH our God, YHVH is one!
Shabbat Shalom!
PS…  Faith is the decision to follow and obey YHVH God's Commandments.  That is what Abraham did in the beginning.  Genesis 26:4-5