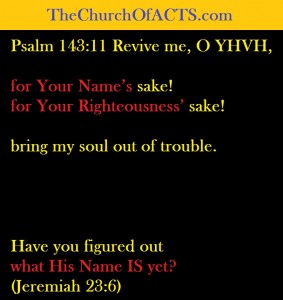 Jeremiah 23:6  In His days Judah will be saved,
And Israel will dwell safely;
Now this is His Name by which He will be called:
YHVH OUR RIGHTEOUSNESS.
Why do so many people argue/debate endlessly whether The Father's Name is YHVH, or YHWH, or YHUH, or whatever?
They have been drawn away into a pursuit not described as worthy anywhere in Scripture.
Scripture teaches us that the Name of the Father is His attributes, i.e. Righteousness.
Psalm 138:2  I will worship toward Your holy temple,
And praise Your name
For Your lovingkindness and Your truth;
For You have magnified Your Word above all Your name.
The Hebrew word for name is shem:
H8034    שֵׁם  shêm  shame  A primitive word (perhaps rather from H7760 through the idea of definite and conspicuous position; compare H8064); an appellation, as a mark or memorial of individuality; by implication honor, authority, character: –  + base, [in-] fame [-ous], name (-d), renown, report.
Now, the Father gives the Son a name above all names…
Philippians 2:9-11  Therefore God also has highly exalted Him and given Him the name which is above every name, 10 that at the name of Yeshua every knee should bow, of those in heaven, and of those on earth, and of those under the earth, 11 and that every tongue should confess that Yeshua Messiah is Master, to the glory of God the Father.
And what is the Name of Yeshua?
Righteousness.
Revelation 19:16  And He has on His robe
and on His thigh a name written:
KING OF KINGS AND MASTER OF MASTERS.
And what does that mean?
Deuteronomy 10:17  For the YHVH your God is God of gods and Master of Masters,
the great God, mighty and awesome, who shows no partiality nor takes a bribe.
Now notice this about YHVH's Son:
Revelation 19:11  Now I saw heaven opened, and behold, a white horse.
And He who sat on him was called Faithful and True,
and in Righteousness He judges and makes war.
In WHAT does he judge and make war?
In Righteousness.
And what is the Name of the Father?
Righteousness.
John 14:11  Believe Me that I am in the Father and the Father in Me
How is the Son in the Father?
He keeps his Father's Torah.
How is the Father in the Son?
The Father wrote His Torah into His Son perfectly.  See Jeremiah 31:33-34
That is WHY the Torah is The Way, The Truth, the Life, the Light, and the Door.
That is WHY the Son is The Way, The Truth, the Life, the Light, and the Door.
The Word and The Son are the same.
One is written on stones and scrolls.
One is perfectly written in the Son's heart and mind.
That is the New Covenant (New Jerusalem) and how it is made!
It is the Promise for those who keep Torah and pass The Judgment.
Shalom.