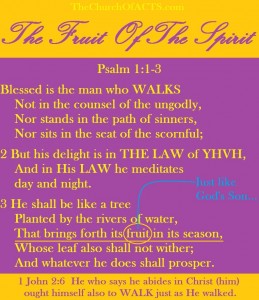 So, we see clearly that the fruit of the Spirit has its source in THE LAW of YHVH.
That is the only way we can understand who and what God's Son was and how he lived and showed us the IMAGE of our Father and was our role model, as Paul says, to become that image.
Psalms 1 is a perfect description of God's Son, how he lived, and also how every true believer should live and is instructed to live, not by bread alone but by every Word that comes from the Mouth of God.
Galatians 5:22-23  But the fruit of the Spirit is love, joy, peace, longsuffering, kindness, goodness, faithfulness, 23 gentleness, self-control. Against such there is no law.
When non-believers exhibit  love are they keeping THE LAW?
When non-believers exhibit kindness are they keeping THE LAW?
When non-believers exhibit self-control are they keeping THE LAW?
No.
Romans 2:14-15  for when Gentiles, who do not have law, by nature do the things in THE LAW, these, although not having law, are law unto themselves, 15 who show the work of THE LAW written in their hearts, their conscience also bearing witness, and between themselves their thoughts accusing or else excusing them)
What they show, by doing "good" things is that God Created them and how He created them with the fiber or code of Torah in them.  Unless they awaken to their Creator and follow Him in all He commands they will never come alive to the "work of THE LAW" written in their DNA code, and they will never please Him and thus ultimately be discarded.
That is the fail point of Christian theology because Gentiles are called and required to graft-in to Israel and become Israel as sons and daughters.
Ephesians 5:9-10  (for the fruit of the Spirit is in all goodness, righteousness, and truth), 10 finding out what is acceptable to YHVH.
If any part of the Creation rejects finding out what is acceptable to YHVH, then they face the ultimate rejection – Matthew 7:21-23
Isaiah 56 is the Gentiles most prominent calling in the entire Scriptures:
Isaiah 56:6-7
6 "Also the sons of the Gentile
Who join themselves to YHVH, to serve Him,
And to love the name of YHVH, to be His servants
Everyone who keeps from defiling the Sabbath,
And holds fast My covenant
7 Even them I will bring to My holy mountain,
And make them joyful in My house of prayer.
Their burnt offerings and their sacrifices
Will be accepted on My altar;
For My house shall be called a house of prayer for all nations."
God and His Son never intended for any Gentile to remain a Gentile because remaining a Gentile results in death.
Colossians 1:26-27  the mystery which has been hidden from ages and from generations, but now has been revealed to His Saints. 27 To them God willed to make known what are the riches of the glory of this mystery among the Gentiles: which is The Word (Christ) in you, the hope of glory.
Which IS the Commandments in you, the hope of glory.
Which IS what is spoken from YHVH God the Father's Mouth, in you, the hope of glory. (which no man can live without)
Which is obedience to THE LAW in you, the hope of glory.
Which IS The Faith OF Yeshua (Jesus) in you, the hope of glory.
To obey is better than sacrifice…
1 Timothy 6:12  Fight the good fight of faith, LAY HOLD on eternal life, to which you were also called and have confessed the good confession in the presence of many witnesses.
Those who reject obedience to YHVH's Commandments will be lost.
Those who endure to the end, laying hold on obedience to the Commandments will be saved.
Shalom.