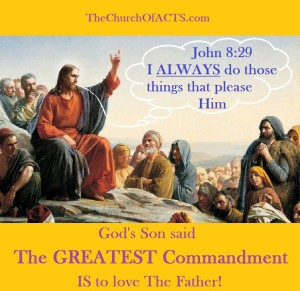 Messiah, God's Son, said the Greatest Commandment is to love His Father.
People came to him and wanted to know the TRUTH:
Matthew 22:36  "Teacher, which is the great commandment in THE LAW?"
Matthew 22:38  This is the first and great commandment.
God's Son leaves NO DOUBT that keeping THE LAW results in eternal life:
Matthew 19:17  "But if you want to enter into life, keep the Commandments."
God's Son ALWAYS taught people to KEEP God the Father's LAW:
Matthew 5:17-19  "Do not think that I came to destroy THE LAW or the Prophets. I did not come to destroy but to EXALT. 18 For assuredly, I say to you, till heaven and earth pass away, one jot or one tittle will by no means pass from THE LAW till all is fulfilled. 19 Whoever therefore breaks one of the least of these commandments, and teaches men so, shall be called least in the kingdom of heaven; but whoever does and teaches them, he shall be called great in the kingdom of heaven."
Now, if you are wondering why the word EXALT is used in Matthew 5:17 it is because Paul reveals to us that is the correct translation and links that Greek word back to the Prophet Isaiah:
See: https://thechurchofacts.com/2017/03/10/gods-son-lift-up-and-exalts-the-law-in-matthew-517/
In these last days, it is extremely important to understand that salvation comes by keeping YHVH's Sabbath and THE LAW, just like Messiah said.
Deuteronomy 18:15-19 and John 1:14 and many other verses reveal to us putting THE LAW in the mouth of Messiah was the purpose of God in creating our Messiah.
It is IMPOSSIBLE to obey the GREATEST Commandment if one does not keep The Sabbath and THE LAW.
DO what Messiah said to DO!!
Only those who obey Him gain eternal life.
Shalom!