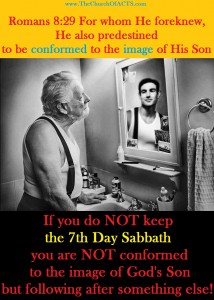 The Bible in Romans 8:29 tells us to be conformed to the image of God's Son.
The Greek word is this: G4832  συμμορφός  summorphos  soom-mor-fos'  From G4862 and G3444; jointly formed, that is, (figuratively) similar: – conformed to, fashioned like unto.
We are instructed to look at the way Messiah lived and to live just like he lived:
1 John 2:6  He who says he abides in Him ought himself also to walk just as He walked.
We are told to IMITATE Messiah:
1 Corinthians 11:1  Imitate me, just as I also imitate Messiah.
And this is what happens if a person who claims to follow Messiah does not imitate Messiah:
James 1:23-24  For if anyone is a hearer of the word and not a doer, he is like a man observing his natural face in a mirror; 24 for he observes himself, goes away, and immediately forgets what kind of man he was.
For various reasons, the false theologies of Christianity decided to throw out much of the image of Messiah and transform their followers into false images of a theologically created "son of god" so they can live contrary to the True Son of God and His Father YHVH Creator of us all.
If you do not know WHY Christian theology did such a terrible thing then you had better spend time finding out WHY and stop being deceived.
A good place to start is here: https://thechurchofacts.com/category/the-gospel/
Cause if you do not know for sure what The Gospel actually IS then what is the basis of your faith?
Shalom!