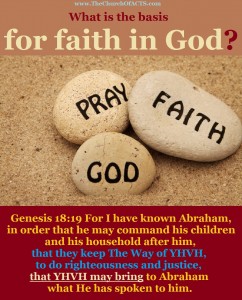 People talk about having faith.  Prosperity preachers talk about getting more faith.  "Jesus" talked about moving mountains with faith.
But, what is the basis for faith in YHVH God?
If we look in an English Bible, we do not see the word faith mentioned until Deuteronomy 32:
Deuteronomy 32:20
20 And He said: 'I will hide My face from them,
I will see what their end will be,
For they are a perverse generation,
Children in whom is no faith.
Before Deuteronomy 32, we see with word faithful used:
Numbers 12:7
7 Not so with My servant Moses;
He is faithful in all My house.
Using eSword to view the Hebrew we see the word for faithful is:
H539  אָמַן 'âman aw-man'
A primitive root; properly to build up or support; to foster as a parent or nurse; figuratively to render (or be) firm or faithful, to trust or believe, to be permanent or quiet; morally to be true or certain; once (in Isa_30:21; by interchange for H541) to go to the right hand: – hence assurance, believe, bring up, establish, + fail, be faithful (of long continuance, stedfast, sure, surely, trusty, verified), nurse, (-ing father), (put), trust, turn to the right.
And the first use of "aman" is found in Genesis 15 and is usually translated into English as "believed":
Genesis 15:6
6 And Abram (he) believed in YHVH, and He accounted it to him for righteousness.
So, right from the very first indication of what faith actually IS, faith is tied to Abraham's relationship with YHVH God.
YHVH reveals Himself to Abram and tells Abram to follow Him and makes promises to Abram if Abram does what YHVH tells him to do:
Genesis 12
Now YHVH had said to Abram:
"Get out of your country,
From your family
And from your father's house,
To a land that I will show you.
2 I will make you a great nation;
I will bless you
And make your name great;
And you shall be a blessing.
3 I will bless those who bless you,
And I will curse him who curses you;
And in you all the families of the earth shall be blessed."
4 So Abram departed as YHVH had spoken to him
So, YHVH God made promises to Abram.  BUT, what is the reason and purpose for those promises?  What is the basis for YHVH's promises to Abram and his descendants?  What is YHVH's motivation and purpose?  It is all revealed right here in Genesis 18:
Genesis 18:17-19
17 And YHVH said, "Shall I hide from Abraham what I am doing,18 since Abraham shall surely become a great and mighty nation, and all the nations of the earth shall be blessed in him? 19 For I have known him, in order that he may command his children and his household after him, that they keep the way of YHVH, to do righteousness and justice, that YHVH may bring to Abraham what He has spoken to him."
The entire purpose of YHVH God creating man is revealed here!
All the promises of YHVH God are inextricably tied to DOing Righteousness and Justice!
That is the entire purpose of man, the entire purpose and basis for eternal life, the entire purpose and basis for our existence.
Abraham is tasked with commanding/instructing/teaching his children to KEEP the Way of YHVH because that is the only way Abraham or any of Abraham's descendants will ever enter into the promises YHVH God made to Abraham.
YHVH later reinforces this purpose to Isaac, Abraham's son:
Genesis 26:4-5
4 And I will make your (Isaac's) descendants multiply as the stars of heaven; I will give to your descendants all these lands; and in your seed all the nations of the earth shall be blessed; 5 because Abraham obeyed My voice and kept My charge, My commandments, My statutes, and My laws."
YHVH gets very specific here and makes sure Isaac and everyone in all history who ever reads the book of Genesis know that any promise anyone expects to receive based on YHVH's promises to Abraham are forever, completely, totally, inextricably, and unchangeably based on being obedient to YHVH's Voice, Charge, Commandments, Statutes, and Laws.
There is absolutely no basis for True Faith in all the Bible scriptures than this!
No wonder YHVH God's Son "Jesus" (Yeshua) says this:
Matthew 6:33
33 But seek first the kingdom of God and His righteousness, and all these things shall be added to you.
Another time in the book of Revelation, God's Son says this:
Revelation 22:14-15
14 Blessed are those who do (YHVH God's) His commandments, that they may have the right to the tree of life, and may enter through the gates into the city. 15 But outside are dogs and sorcerers and sexually immoral and murderers and idolaters, and whoever loves and practices a lie.
There is no basis for saving faith outside of DOing everything YHVH God says to DO.
The words of John 15:14 were spoken through the mouth of God's Son but those words belong to His Father.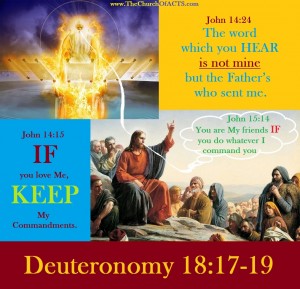 There is no basis for a relationship with God other than choosing to be obedient and KEEP all of His Commandments.
If a person does not want to KEEP all of YHVH God's Law then they are not even in the True Faith.