Do You REALLY KNOW What The Gospel IS? Intro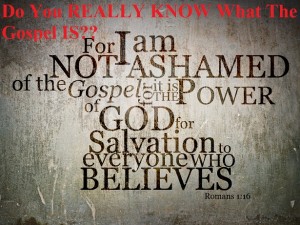 We have heard the word Gospel used by preachers down through history, ad infinitum…  And it is talked about in many and various ways!  Just go into 10 different denominational churches and you will get 10 different views as top what the Gospel is and what it means.
But do you know what the Bible scriptures say the Gospel actually IS?
This series of articles takes apart the verses that mention the Gospel to determine just what it is and how it affects us in every way in our daily lives.  Many hundreds if not thousands of books have been written on the Gospel but none seem to tell you what it IS!
Did you know the Gospel is a MYSTERY?
Ephesians 6:18-20
18 praying always with all prayer and supplication in the Spirit, being watchful to this end with all perseverance and supplication for all the saints— 19 and for me, that utterance may be given to me, that I may open my mouth boldly to make known the mystery of the gospel, 20 for which I am an ambassador in chains; that in it I may speak boldly, as I ought to speak.
Did you know the Gospel has to be OBEYED?
Romans 10:16
But they have not all obeyed the gospel. For Isaiah says, "YHVH (Lord), who has believed our report?"
1 Peter 4:17
For the time has come for judgment to begin at the house of God; and if it begins with us first, what will be the end of those who do not obey the gospel of God?
2 Thessalonians 1:8
7 and to give you who are troubled rest with us when Adonai Yeshua (the Lord Jesus) is revealed from heaven with His mighty angels, 8 in flaming fire taking vengeance on those who do not know God, and on those who do not obey the gospel of our Adonai (Master) Yeshua Messiah (the Lord Jesus Christ). 9 These shall be punished with everlasting destruction from the presence of YHVH (the Lord) and from the glory of His power,
So, it is clear the Gospel has to be obeyed, but what is it?
Did you know the Gospel lasts forever so once it was given it never goes away?
Revelation 14:6
Then I saw another angel flying in the midst of heaven, having the everlasting gospel to preach to those who dwell on the earth—to every nation, tribe, tongue, and people—
Did you know the Gospel HAS BEEN PREACHED to those who were dead?
1 Peter 4:6
For this reason the gospel was preached also to those who are dead, that they might be judged according to men in the flesh, but live according to God in the spirit.
Did you know that DEATH HAS BEEN ABOLISHED through the Gospel?
2 Timothy 1:10
but has now been revealed by the appearing of our Savior Yeshua Messiah (Jesus Christ), who has abolished death and brought life and immortality to light through the gospel,
Did you know the Gospel is used to OBTAIN GLORY?
2 Thessalonians 2:14
to which He called you by our gospel, for the obtaining of the glory of our Master Yeshua Messiah (the Lord Jesus Christ).
Did you know the Gospel demands A CERTAIN CONDUCT of those who would follow it?
Philippians 1:27
Only let your conduct be worthy of the gospel of Messiah (Christ), so that whether I come and see you or am absent, I may hear of your affairs, that you stand fast in one spirit, with one mind striving together for the faith of the gospel,
The Gospel is an amazing thing! But very, very few people know what it IS!
Come join me as I unlock the mystery of the Gospel for all to see.