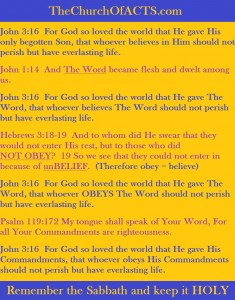 The Bible is a very simple book (for those who obey Psalm 1).
The Bible is not a very long book.  It is about the length of 2 average length novels.
Some people read hundreds of novels in their lifetimes.  Just to graduate high school, one has gone through many dozens of books over 12 years of school which are many times greater in length than the Bible.
The Bible (KJV) has about 783,137 words.  If you read at a normal rate 250 words per minute it takes just 52 hours to read the Bible.
That's 13 days at 4 hours each evening…
That's 7 weeks if you read 8 hours every Sabbath and do not read the other 6 days of the week…
That's fully through the bible 7 times in a year if you read 8 hours each Sabbath…
But a large study found only 11% of believers have ever read the Bible front to back a single time in their life…  And only 9% have read the Bible more than once.  I suspect the actual numbers are far lower.
Doesn't really sound like many believers BELIEVE The Word of God holds the secrets to life, does it?
Jeremiah 29:13  And you will seek Me and find Me, when you search for Me with all your heart.
If people can't read the Bible through once in their life they are not searching with all their heart, are they?
An average person can easily and casually read through the Bible a couple of times a year.  But they don't.
A Sabbath keeper can easily read the Bible 7 times a year and still have a lot of time left over on the Sabbath.  But most don't.
Matthew 6:33  But seek first the kingdom of God and His (YHVH's) righteousness, and all these things shall be added to you.
We live in a world with 2.5 billion Christians and almost none of them obeys Matthew 6:33 and seeks God's Righteousness…
How is it possible Christians simply do not obey this Commandment?
They simply prefer to do other things with their time…  TV, sports, music, video games
How to seek and find and apply God's Righteousness in your life?
Psalm 1:1-3  Blessed is the man Who walks not in the counsel of the ungodly,
Nor stands in the path of sinners,
Nor sits in the seat of the scornful;
2 But his delight is in the Law of YHVH,
And in His Law he meditates day and night.
3 He shall be like a tree     Planted by the rivers of water,
That brings forth its fruit in its season,
Whose leaf also shall not wither; And whatever he does shall prosper.
It is only by meditating/studying the Bible, God's Words, night and day, and applying and obeying them in your life that you begin to see the carefully hidden messages in various verse that unlock what God is teaching such as in the picture of this post.
Mark 12:30  And you shall love YHVH your God with all your heart, with all your soul, with all your mind, and with all your strength.' This is the first commandment.
All your mind, all your soul, all your strength?  And most people/believers have never read the Bible once?
They never give themselves the chance to get here:
John 1:14 shows us that we can substitute The Word for every occurrence of Jesus/Yeshua/Christ/Messiah/TheSon but unless one has studied deeply they never see it and never prove it.
Hebrews 3:18-19 shows us we can substitute OBEY for every occurrence of believe…
Psalm 119:172 shows us we can substitute Commandments for every occurrence of The Word…
Hebrews 3:16 – 4:2 shows us we can substitute THE LAW for every occurrence of The Gospel…
And on and on…  Truth is hidden in the definitions and use of words and parables.  It is understanding the words that unlocks the parables.
And the more astounding Truths such as the Jeremiah New Covenant is defined by simple reading comprehension that shows you Jeremiah 31:33 "AFTER THOSE DAYS" forever defines the Jeremiah New Covenant as far into the future after the 7th Millennium…
Read and study like your eternal life depends on it.
It does…
You stand at The Judgment alone based on what you did and with no other defense other than what you did…
No teacher you watch on video or hear in person will stand with you.  And if they tell/instruct you wrong and you follow them you will find out that ignorance is not an acceptable excuse at The Judgment.
Do you own serious study and due diligence just like the commandment says then no teacher can deceive you.
Shalom!
Ps….  If you understand the principles of these verses and the sequence I outline then you can grasp how YHVH can cause the writer of Hebrews to pen this:
Hebrews 13:8  Yeshua Messiah (Jesus Christ) is the same yesterday, today, and forever.
YHVH's Word never changes from beginning to end.  Torah is The Way, The Truth, and The Life.
And that is why YHVH God the Father said He was well pleased with His Son who obeyed Torah and commands us to be His Son's image…
In total agreement, God's Son says this:
Revelation 22:14  Blessed are those who do YHVH's (His) commandments that they may have the right to the tree of life, and may enter through the gates into the city.