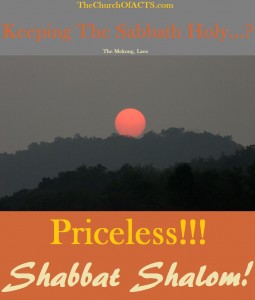 God's Son kept The Sabbath HOLY every 7th Day of his life…
God's Son kept 7 annual appointed Sabbaths every year of his life…
That is over 1,500 Sabbaths that God's Son kept…
Keeping the Sabbath and all THE LAW is what the faith of Yeshua Messiah IS…
Do you have the faith of Yeshua Messiah?  Or some substitute?
God's Son said the greatest Commandment is loving His Father…
God's Son told us the WAY we know he loved his Father YHVH was because he kept His Father's Commandments…
Keeping His Father's Commandments was the only PROOF he offered to verify his faith and love to everyone…
God's Son said keeping His Father's Commandments results in salvation/eternal life…  (Matthew 19:17)
What is stopping you from showing God's Son that you love YHVH God his Father in heaven?
Seriously…
What is stopping you from showing the whole world you truly love YHVH God the Father?
Is it really an imposition to stop everything you are doing for 1 day out of 7?
Don't trust theologies that say God changed what He said…
The Master of those theologies is exposed in Genesis 3:1
The Sabbath is the SIGN of YHVH Elohim/God and His People…
You do want to be one of His People, don't you?
Seriously…
Shalom!