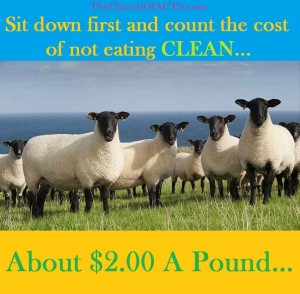 Price meat in the grocery stores lately?
Price Lamb in the grocery stores lately?
Last time I checked, lean hamburger that is not grass-fed and is raised in FILTHY CAFO lots and buildings, and is fed GMOs not fed pure organic food, and is UNCLEAN as far as I am concerned, costs $4-$5 a pound.
We have/support several local growers who raise lamb, calf/cow, chickens, turkey, and other birds on pasture…
Our cost for eating CLEAN Lamb?
About $2.00 a pound…
Cheap, when you go to the store and see lamb at $9+++ per pound…
We slaughter our own and the local growers get the same exact price as if he sold to his buyer/wholesaler/middle man who in turn sell to various middle men and finally there is a high retail price at the grocery store.
We just do all the work…
So, what happens when meat and produce are grown far away and sold to your local grocery stores?
Profit leaves the local economy and assurance that food is grown/raised CLEAN and all natural the way YHVH God the Father intended – IS LOST.
Who loses?
Everybody locally…
Local jobs are lost, local wealth is lost, and CLEAN standards are LOST, etc, etc, etc…
Shalom!