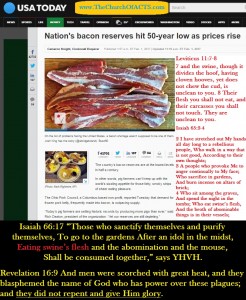 It is painfully obvious the people in the United States and all around the world love to eat pork.  The prophecies show us in Revelation they would not repent from breaking YHVH God and His Son's Commandments.
Not a single one of YHVH God's Commandments ever changed in the all Bible from Genesis to Revelation, nor can they possibly change.
The Scriptures so that you can know YHVH God and His Son can absolutely be depended on and they never, ever change.
False religions claim God and His Son changed THE LAW and The Sabbath.
Do you see ANY evidence that God changes in the Scriptures?
No!
Numbers 23:19 "God is not a man, that He should lie, Nor a son of man, that He should repent. Has He said, and will He not do? Or has He spoken, and will He not make it good?
Malachi 3:6 For I am YHVH, I do not change
James 1:17   Every good gift and every perfect gift is from above, and comes down from the Father of lights, with whom there is no variation or shadow of turning.
Hebrews 6:17-18   Thus God, determining to show more abundantly to the heirs of promise the unchangeability of His counsel, confirmed it by an oath, 18 that by two unchangeable things, in which it is impossible for God to lie, we might have strong consolation, who have fled for refuge to lay hold of the hope set before us.
Hebrews 13:8   The Torah (The WORD/Yeshua Messiah) is the same yesterday, today, and forever.
Isaiah 40:8  The grass withers, the flower fades, but the Word of our God stands forever.
Psalm 119:89   Forever, O YHVH, your Word is fixed in the heavens.
Psalm 33:11 The counsel of YHVH stands forever, the plans of His heart to all generations.
If you do not understand that God's Word i.e. THE LAW He gave to the children of Israel does not ever change then you will want to review the studies here:
https://thechurchofacts.com/category/the-law/
https://thechurchofacts.com/share-the-law-posts/
Shalom!
PS… The picture for this truth post is here: http://www.usatoday.com/story/money/business/2017/02/01/nations-bacon-reserves-hit-50-year-low-prices-rise/97327794/