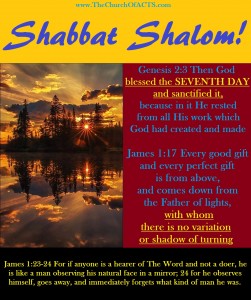 When a person first comes to God and His Son they know virtually nothing about the Bible and the Scriptures.
All they know is they feel the burden of their sins and they want relief.
Pain is REAL.
Sorrow is REAL.
Loneliness is REAL.
Desperation is REAL.
Guilt is REAL.
They come to God and/or God's Son and they repent and ask forgiveness.  They do not know hardly a single thing about all the books of the Bible, or all the doctrines of the Bible, or all the various churches and their history, or about the various theologies and beliefs that differentiate believers and keep them apart.
All they know is they realized their sin is REAL and they want relief.
They want to know their Creator who can forgive them and His Son who they are told died for their sins.
They do not know the lies about the Sabbath of YHVH that Christian churches have told and that is not important because people whose pain and guilt are REAL will do almost anything to be relieved of it.
So, they kneel or bow in repentance, ask YHVH God to forgive them, and pledge to devote their lives to serving them.
And they are miraculously born again by The Word as YHVH God's Spirit enters into them as they have been literally washed in the blood of the Lamb and the freedom from sin is met head on and they are ecstatic.
When Christians "lead someone to Messiah" they don't start by telling them they do not have to keep YHVH's Sabbath.  They do not start by telling them they do not have to obey YHVH's LAW.  They do not start by telling them YHVH God's literal Voice The Word/Torah was placed perfectly written into YHVH's Son so Yeshua could live a perfect and become the free sacrifice for sin.
But, after a few days or weeks upon entering into a church somewhere, that person begins to DO as those around him DO and speak and act like those around him act, and live like those around him in the church live.
And that is the Parable of the Sower, Matthew 13 – Mark 4 – Luke 8, as this person in a Christian church learns ways contrary to YHVH God and THE LAW he gave all the people he created to live by and come into right relationship with Him and His Son.
The Word sowed into the born again begins to diminish as more and more theological sins are learned and lived.
Some seed falls by the wayside.
Some seed falls in stony places, comes to life, then quickly dies for lack of ROOTS!!!
Some seed falls among THORNS but the THORNS choke them!
But The Word sown into GOOD GROUND yields a harvest and is not burned up.
Isaiah 45:19  I have not spoken in secret,
In a dark place of the earth;
I did not say to the seed of Jacob,
'Seek Me in vain';
I, YHVH, speak righteousness,
I declare things that are right.
2 Corinthians 9:8-11
8 And God is able to make all favor abound toward you, that you, always having all sufficiency in all things, may have an abundance for every good work.
9 As it is written:
"He has dispersed abroad,
He has given to the poor;
His righteousness endures forever."
10 Now may He who supplies seed to the sower, and bread for food, supply and multiply the seed you have sown and increase the fruits of your righteousness, 11 while you are enriched in everything for all liberality, which causes thanksgiving through us to God.
Unfortunately, most born again's live lives contrary to God's Ways and they separate themselves from Him and His Spirit leaves them just as His Spirit left Samson:
Judges 16:20  And she said, "The Philistines are upon you, Samson!" So he awoke from his sleep, and said, "I will go out as before, at other times, and shake myself free!" But he did not know that YHVH had departed from him.
Do you think Paul was just kidding when he said YHVH's Righteousness endures forever?
Because – Christian theology has been destroying and taking The Kingdom by violent force for well over 1,700 years now.
What then is this GOOD GROUND?  (Remember, Messiah is the Vine and that Vine is also in the ground?)
Psalm 11:3-7  If the foundations are destroyed,
What can the righteous do?
4 YHVH is in His holy temple,
YHVH's throne is in heaven;
His eyes behold,
His eyelids test the sons of men.
5 YHVH tests the righteous,
But the wicked and the one who loves violence His soul hates.
6 Upon the wicked He will rain coals;
Fire and brimstone and a burning wind
Shall be the portion of their cup.
7 For YHVH is righteous,
He loves righteousness;
His countenance beholds the upright.
The Righteous do not take The Kingdom by force.  They take it by obedience in serving YHVH by YHVH's Torah (His Son).
The Righteous keep the 7th Day Sabbath and hold fast all YHVH's LAW, Isaiah 56
Only the Righteous are saved in the Day of Judgment!
Psalm 37:39  But the salvation of the Righteous is from YHVH;
He is their strength in the time of trouble.
Psalm 65:5  By awesome deeds in righteousness You will answer us,
O God of our salvation,
You who are the confidence of all the ends of the earth,
And of the far-off seas;
Psalm 118:15  The voice of rejoicing and salvation
Is in the tents of the righteous;
The right hand of YHVH does valiantly.
1 Peter 4:17-18  For the time has come for judgment to begin at the house of God; and if it begins with us first, what will be the end of those who do not obey THE LAW (The Gospel) of God?
18 Now
"If the righteous one is scarcely saved,
Where will the ungodly and the sinner appear?"
Shabbat Shalom!
PS…  The Gospel is defined as THE LAW in Hebrews 4:2, read from about Hebrews 3:16 forward and see there is no other conclusion that can be reached.