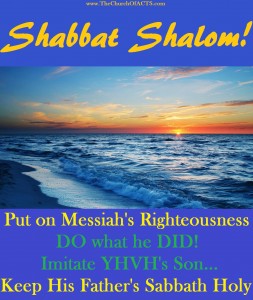 What did the Apostle's Paul, John, Peter, and the writer of Hebrews say to DO?
Come and SEE!!!
G3402  μιμητής  mimētēs  mim-ay-tace'  From G3401; an imitator: – follower.
1 Corinthians 4:16  Therefore I urge you, IMITATE me.
1 Corinthians 11:1  Imitate me, just as I also IMITATE Christ.
Hebrews 6:11-12  And we desire that each one of you show the same diligence to the full assurance of hope until the end, 12 that you do not become sluggish, but IMITATE those who through faith and patience inherit the promises.
Ephesians 5:1  Therefore be IMITATORS of God as dear children.
1 Thessalonians 1:6-7  And you became IMITATORS of us and of the Lord, having received the word in much affliction, with joy of the Holy Spirit, 7 so that you became examples to all in Macedonia and Achaia who believe.
1 Peter 3:13-14  And who is he who will harm you if you become IMITATORS of what is good? 14 But even if you should suffer for righteousness' sake, you are blessed. "And do not be afraid of their threats, nor be troubled."
It is EXTREMELY important to dig into the Greek language to understand how those words relate to Hebrew Truth in order to please YHVH God in Righteousness.  Psalms 1:1-3 was written for a very specific reason that man live by YHVH's Words which are the Bread of Life.  YHVH put His Torah/Words/Voice into the prophet He created as His Son so that we would hear His Voice!
G3401  μιμέομαι  mimeomai  mim-eh'-om-ahee  Middle voice from μῖμος mimos (a "mimic"); to imitate: – follow.
3 John 11  Beloved, do not IMITATE what is evil, but what is good. He who does good is of God, but he who does evil has not seen God.
2 Thessalonians 3:7  For you yourselves know how you ought to IMITATE us, for we were not disorderly among you;
2 Thessalonians 3:9  not because we do not have authority, but to make ourselves an example of how you should IMITATE us.
Hebrews 13:7-9  Remember those who rule over you, who have spoken the word of God to you, whose faith IMITATE, considering the outcome of their conduct. 8 THE WORD (Yeshua Messiah) is the same yesterday, today, and forever. 9 Do not be carried about with various and strange doctrines. For it is good that the heart be established by favor, not with foods which have not profited those who have been occupied with them.
When Bible translators got to these Greek words they did not concern themselves too much whether meaning and truth was lost of not.  They translated these words often as "follow" and "followers" and the true meaning got LOST along the way…
The Apostles are communicating those who will receive eternal life must be imitators of God's Son!  It does not get more plainly stated than the way the Apostle John said it:
1 John 2:6  He who says he abides in Him ought himself also to live (walk) just as He lived (walked).
The Greek word for "just" indicates an exact image.
Romans 8:29  For whom He foreknew, He also predestined to be conformed to the image of His Son, that He might be the firstborn among many brethren.
God did not predestine people!  YHVH does not pick and choose who will be His sons and daughters long before they are ever born.
YHVH predestined His LAW, THE LAW His Son lived by every day of his life, to be the IMAGE of how people should live and please God and come to Him in Righteousness through faith as obedient sons and daughters.  YHVH predestined  His LAW, THE LAW of His Kingdom, and put THE LAW of His Kingdom perfectly into His Son, so we would know how to live and please YHVH and IMITATE His Son, and walk in THE WORD of YHVH's Voice which is unchanged throughout all eternity.
So, what happens if we live according to the image of keeping perfect Torah, THE LAW of YHVH God?
2 Corinthians 4:3-5  But even if our Gospel is veiled, it is veiled to those who are perishing, 4 whose minds the god of this age has blinded, who do not believe, lest the light of The Gospel of the glory of THE WORD (Messiah), who is the image of God (YHVH), should shine on them. 5 For we do not preach ourselves, but THE WORD the Master (Messiah Yeshua the Master), and ourselves your bondservants for THE WORD's (Yeshua's) sake.
Messiah IS the IMAGE of YHVH the Living Elohim (God).
Are you conforming your life and the way you live to the image of Messiah?
Are you conforming your life and the way you live to the image of YHVH God the Father?
Are you living your life by YHVH God the Father's Commandments the way His Son did?
Or have you been deceived by false theologies who say just merely believe in "Christ" and you get everything…?
Romans 3:4 Indeed, let God be true but every man a liar. As it is written: "That You may be justified in Your words,
And may overcome when You are judged."
Jeremiah 42:5-6  So they said to Jeremiah, "Let YHVH be a true and faithful witness between us, if we do not do according to everything which YHVH your God sends us by you. 6 Whether it is pleasing or displeasing, we will obey the voice of YHVH our God to whom we send you, that it may be well with us when we obey the voice of YHVH our God."
Are you obeying the Voice of YHVH God the Father through His Son or have you been tricked into believing something else?
Shabbat Shalom!
PS…
Genesis 1:27  So God created man in His own image; in the image of God He created him; male and female He created them.
Colossians 3:10  and have put on the new man who is renewed in knowledge according to the image of Him who created him,
2 Corinthians 3:18  But we all, with unveiled face, beholding as in a mirror the glory of YHVH, are being transformed into the same image from glory to glory, just as by the Spirit of YHVH.