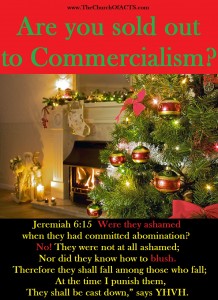 If you have a Christmas Tree in your house, then you are definitely sold out to Commercialism and most likely sold out to paganism and definitely not sold out to YHVH God and His Son.
There is not Christmas Tree in the Bible, in fact the Bible speaks absolutely against it in several places.  There is no Christmas in the Bible either and the name comes from the Christ-MASS of the false Roman Catholic Church.  It is taking the things of pagan celebrations and bringing them in homes and celebrations where people claim they honor God's Son's birth.
Those who do those things cannot enter into eternal life.
God says He will destroy all those who do those things unless they repent now.
Tomorrow is guaranteed to no one.
See what else God says:
Jeremiah 6:16-21
16 Thus says YHVH:
"Stand in the ways and see,
And ask for the old paths, where the good way is,
And walk in it;
Then you will find rest for your souls.
But they said, 'We will not walk in it.'
17 Also, I set watchmen over you, saying,
'Listen to the sound of the trumpet!'
But they said, 'We will not listen.'
18 Therefore hear, you nations,
And know, O congregation, what is among them.
19 Hear, O earth!
Behold, I will certainly bring calamity on this people—
The fruit of their thoughts,
Because they have not heeded My words
Nor My LAW, but rejected it.
20 For what purpose to Me
Comes frankincense from Sheba,
And sweet cane from a far country?
Your burnt offerings are not acceptable,
Nor your sacrifices sweet to Me."
21 Therefore thus says YHVH:
"Behold, I will lay stumbling blocks before this people,
And the fathers and the sons together shall fall on them.
The neighbor and his friend shall perish."
If you really want to celebrate Messiah's birthday in the wrong month, then at the very least DO THE RIGHT THING GET OUT ALL THE PAGAN TREES AND STUFF FROM YOUR HOUSES, CHURCHES, SONGS, AND PRESENTS!