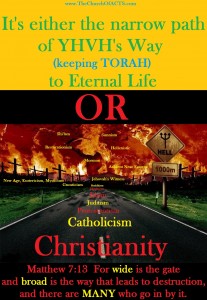 Do you believe in the eternal YHVH God who created the heavens and the earth?
Or do you believe is some man made-up religion?
Have you substituted a false religion for True faith in God?
Have you substituted man made doctrine for True faith in God?
Have you substituted man made traditions for True faith in God?
Is the basis for your belief just what some preacher says on Sunday?
Is your belief based on what some Priests says who hands you a wafer and a cup and says your sins are forgiven?
Is your belief based on what somebody tells you to believe or based on what you know?
Is your belief based on what pastors, priests, teachers, schools, seminaries tell you to believe or based on what you have discovered for yourself?
Is your belief based on what you yourself have read in the Bible or based on what some man told you to believe?
Have you read the entire Bible many times and know God and His Son and know all their Words and obey them?
Or do you sit in a church pew or in a mosque and listen to some man tell you what to believe?
How do you PROVE what the man says is true?
You have to read ALL the Bible over and over and over again to know it for yourself or some preacher, priest, minister, or torah teacher can easily deceive you into living false beliefs and practices in your life.
What happens if you do what man tells you to do and not what God tells you to DO?
Every knee shall bow to Me,
And every tongue shall confess to God." (Isaiah 45:23)
12 So then each of us shall give account of himself to God. 13 Therefore let us not judge one another anymore, but rather resolve this, not to put a stumbling block or a cause to fall in our brother's way.
Do you let some man (preacher, priest, minister) tell you what to do, tell you how to live, tell you how to think, tell you how to worship, tell you how to bless men and God, tell you how to praise, tell you how to function in everyday life and what that man says is NOT based on the Commandments of God given to His People?
Do you live your life DIFFERENT from the WAY God's Son lived His life?
And you let some man tell you it is okay to live DIFFERENTLY from how YHVH God says to LIVE and how His Son LIVED?
What does it take to wake you up, SLAVE?
If you do not keep YHVH God's 7th Day Sabbath and live by all His Commandments/LAW/WORD then it is absolutely, completely, totally, and logically IMPOSSIBLE for you to receive eternal life!
No Christian can go to heaven by mere belief in "Jesus". That is how demons believe: James 2:19
WHO tricked you out of the True Faith?
Some man following doctrines of demons…
Throw away your TV, radio, movies, music and read The Scriptures as if your life depends on it!!!
Show YHVH God and His Son you are seeking YHVH God's Righteousness with all your heart, soul, mind, and strength!
33 But seek first the kingdom of God and His righteousness, and all these things shall be added to you.
Start living your life the Way a Godly life is pictured in the scriptures:
Who walks not in the counsel of the ungodly,
Nor stands in the path of sinners,
Nor sits in the seat of the scornful;
2 But his delight is in the law of the Lord,
And in His law he meditates day and night.
3 He shall be like a tree
Planted by the rivers of water,
That brings forth its fruit in its season,
Whose leaf also shall not wither;
And whatever he does shall prosper.
Throw off the world and put on God's Commandments that He put in the flesh body of His Son, called TORAH, which is The LIGHT.
Abandon all the false religions in the picture because they are against YHVH God's Commandments!