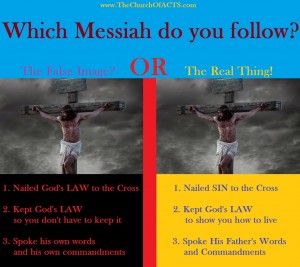 Do you follow/worship a false image of Yeshua Messiah (Jesus Christ)?
Have you been duped by churches, teachers, bible schools, and seminaries that specialize in false theologies?
Have you been cheated out of the true relationship with God and His Son described in Isaiah 56?
Are you living your life contrary to or different than how God's Son lived his life?  1 John 2:6
I limited the differences between serving the false image of Messiah and living true faith in YHVH by keeping His Commandments, for the reason of keeping things simple.  But there are dozens of misconceptions between the false image and the REAL THING!  It always boils down to whether theologies engineer people's belief or whether YHVH God's Word is running the show.
Nailed Sin to the Cross.
If someone says God the Father's LAW was nailed to the cross, how is it then His Son says there is none GOOD but God?
Matthew 19:17 So He said to him, "Why do you call Me good? No one is good but One, that is, God. But if you want to enter into life, keep the commandments."
In the very same sentence "Jesus"says only God is good, he also says the only way to eternal life is keeping God's Commandments.
Theologians use Colossians 2:14 to say God's Law was nailed to the cross
Colossians 2:14  14 having wiped out the handwriting of requirements that was against us, which was contrary to us. And He has taken it out of the way, having nailed it to the cross.
but it seems they forgot to read the whole chapter because Colossians 2:8 explains whose handwriting requirements were done by MEN against them and contrary to them so it is not possible God's LAW was nailed to the cross:
Colossians 2:8  Beware lest anyone cheat you through philosophy and empty deceit, according to the tradition of men, according to the basic principles of the world, and not according to Christ.
Kept God's LAW to show you how to live.
Yeshua Messiah also known as "Jesus Christ" kept his Father YHVH's LAW perfectly.
The question is since he did that do believers not have to keep God's LAW anymore and was it done away with?
In Hebrews 4, we are told not to fall the way they fell in the Wilderness those 40 years:
Hebrews 4:11  Let us therefore be diligent to enter that rest, lest anyone fall according to the same example of disobedience.
Obviously, the concern is believers falling from the faith just like those in the Wilderness.
The issue is disobedience just like those people in the example.
What were "those people" disobedient to…?
Obviously, they were disobedient to YHVH God the Father's LAW.
Hebrews 4 is telling us not to live against God's LAW like those who fell in the Wilderness those 40 years.
We are told to be DILIGENT to enter into that same rest, just like in the Wilderness, that "those people" did not enter into…
Hebrews 4:15 tells us Yeshua Messiah was without sin!
So, to be obedient and not FALL, you have to keep YHVH God the Father's LAW just like His Son did, just like the parents of John the Baptist did Luke 1:5-6, just like ALL Israel did in Joshua's day when they took the Promised Land, led by Joshua and the elders, and they ENTERED INTO YHVH'S REST!!!
Joshua 21:44  YHVH gave them rest all around, according to all that He had sworn to their fathers. And not a man of all their enemies stood against them; YHVH delivered all their enemies into their hand.
The only WAY to enter into YHVH God's REST is to KEEP His LAW !!!
That is WHY when YHVH God created His Son He put His Living Torah into him so that people would obey YHVH's Commandments:
John 1:14  And the Word became flesh and dwelt among us
Spoke his Father's Words and Commandments.
Yeshua Messiah in all the scripture about him NEVER once says he is doing things of his own will. In fact, he says everything he does is not of his own will:
John 14:24  He who does not love me does not keep my words; and the Word which you hear is not Mine but the Father's who sent Me.
John 12:49  For I have not spoken on My own authority; but the Father who sent Me gave Me a command, what I should say and what I should speak.
Those commands of what Messiah would say and how he would speak are prophesied about here: Deuteronomy 18:15-19
Only those who are of God can hear God speaking through Messiah:
John 8:47  He who is of God hears God's words; therefore you do not hear, because you are not of God.
John clears this up by saying The Word is from the beginning:
1 John 2:7  Brethren, I write no new commandment to you, but an old commandment which you have had from the beginning. The old commandment is the word which you heard from the beginning.
Messiah describes himself as virtually powerless and does not seek his own will:
John 5:30  I can of Myself do nothing. As I hear, I judge; and My judgment is righteous, because I do not seek My own will but the will of the Father who sent Me.
Everything Messiah did in his short life was YHVH God the Father's Will:
Luke 22:42  Father, if it is Your will, take this cup away from Me; nevertheless not My will, but Yours, be done.
In summary, any church, denomination, or religion that is against and contrary to the Commandments and Law YHVH God the Father gave to the children of Israel is FALSE in its foundational concepts.
These are very simple scripture and logic proofs.
Shalom!