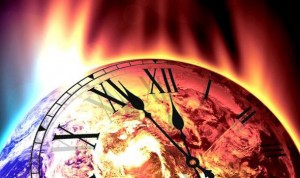 The entire world is in a frenzy as it read the news each day.
Back in the late 1980s and even into the 1990s, politicians were starting to say war was a thing of the past and countries were cutting defense budgets.  Then came the first Gulf War, then 9/11, then the war in Afghanistan, then Iraq, then many other countries as the so-called "war on terror" expanded to the majority of the countries in the world, in one form or another.
Everywhere you looks there are very intelligent people in a number of academic disciplines predicting future catastrophes, wars, and even WWIII, and even worse with scenarios having asteroids hitting the earth, volcanoes causing an ice age, and on and on.
Look very carefully and the "church" scene is full of preachers who say the end is coming and these are the last days of the age before the return of "Jesus" Yeshua Messiah and there will be a rapture of believers prior to the last 7 years and if you "believe in Jesus" you will escape the judgments of God coming to the earth and its inhabitants.
To this day, I have never heard a prophecy writer/preacher/speaker get it even close to what I think is right.  It seems they all miss the most important aspect of WHY the book of Daniel and WHY the book of Revelation.  People make vague references to a corrupt generation, immoral behavior, etc but you never hear a coherent explanation that settles the matter.
People reading this series of articles will hear the only coherent explanation simply based on what is clearly written in the Bible but almost all these money making prophecy writers miss!
In the beginning YHVH Elohim (God) created the heavens and the earth and all that is in them.  In just 6 days His work was done and He rested on the 7th Day, a day that is immortalized in the scriptures but in this modern world almost totally ignored.
Things got so bad in that world, YHVH flooded it killing everyone and everything except for 8 people and a few of every animal on the planet and He gave man a fresh start promising never to flood the world again.
In Exodus, YHVH gave His written Law to Moses for the children of Israel.  And the rest of the Bible is about that written Law and whether it is obeyed, OR NOT.
In dozens of books in the Bible, prophecies speak of the horror of the last days, a time "Jesus" Yeshua Messiah said would be just like the days of Noah.  We are in those last days now, at the edge of the 7th Millennium.  Lost in time is something called Daniel's 70th Week.  The judgments of that 70th Week are detailed in the book of Revelation and other books.
Oddly enough, I am chosen to give you the timeline of the end so that you can prepare yourselves, your families, your friends, and yes, your enemies for what is to come.  And I take that responsibility very seriously.
First, we must understand some simple prophecies that detail the last 7 years in terms of days, months, and years.
Second, we look at the history to understand how YHVH God counts prophetic time as well as normal time.
It is all very, very simple.  But when YHVH seals something from common knowledge, IT IS SEALED and no one can understand it unless He reveals it to them.
Most of these things have been revealed to me and I wish you well as you read these simple words and come to an understanding of how the math behind prophecy works.  Again, it is very simple (but it can hide in plain sight).
Let's get started!
The first example of prophetic time I want to mention is within 2 scriptures about Noah's Flood:
Genesis 7:11  In the six hundredth year of Noah's life, in the second month, the seventeenth day of the month, on that day all the fountains of the great deep were broken up, and the windows of heaven were opened.
Genesis 8:4  Then the ark rested in the seventh month, the seventeenth day of the month, on the mountains of Ararat.
Genesis 7:24  And the waters prevailed on the earth one hundred and fifty days.
The scriptures tell us concisely that 5 months = 150 days, therefore, a prophetic month is 30 days.
Now, here are the 7 important scriptures in the prophecies of Daniel and John in Revelation regarding days, months, and years that indicate how everything happens in the 70th Week:
Revelation 11:3  And I will give power to my two witnesses, and they will prophesy one thousand two hundred and sixty days, clothed in sackcloth."
Revelation 12:6  Then the woman fled into the wilderness, where she has a place prepared by God, that they should feed her there one thousand two hundred and sixty days.
Revelation 11:2  But leave out the court which is outside the temple, and do not measure it, for it has been given to the Gentiles. And they will tread the holy city underfoot for forty–two months.
Revelation 13:5  And he was given a mouth speaking great things and blasphemies, and he was given authority to continue for forty–two months.
Daniel 7:25  He shall speak pompous words against the Most High, Shall persecute the saints of the Most High, And shall intend to change times and law. Then the saints shall be given into his hand For a time and times and half a time.
Daniel 12:7  Then I heard the man clothed in linen, who was above the waters of the river, when he held up his right hand and his left hand to heaven, and swore by Him who lives forever, that it shall be for a time, times, and half a time; and when the power of the holy people has been completely shattered, all these things shall be finished.
Revelation 12:14  But the woman was given two wings of a great eagle, that she might fly into the wilderness to her place, where she is nourished for a time and times and half a time, from the presence of the serpent.
Let's start with 42 months, multiply the 42 months by a 30 day month:
42 months times 30 day months = 1,260 days 
Now, let's divide the 42 months by 12 months in a year:
42 months divided by 12 months in a year = 3.5 or "time, times, and half a time" 
That was easy!  We just solved almost everything you need to know about calculating prophetic time.
Now there is the normal time and that is also very simple, also:
From June 1, the first year, to June 1 the second year = 1 year
Okay, so that one was obvious, but here is how it works in scripture application:
Matthew 24:34  Assuredly, I say to you, this generation will by no means pass away till all these things take place.
Most authorities agree this series of scripture refers to Israel becoming a nation in 1948 and they are correct.  But how long is a generation?  Well, to know how long a generation is you have to know how long someone lives or is expected to live.  Life span has been changing throughout history depending on a person's health and welfare but a nation is simple to calculate you just add up the ages of all the people who died in a certain timeframe and divide by the number of people and voila you know how long men live, how long women live, and then you can determine the expected life span of a whole generation.
If we go to the World Factbook, statistics kept by the CIA, we select Israel and then the "People and Society" section, and go to the "Life expectancy at birth" section and we see a generation is today's modern Israel is 81.28 years, then:
1948 + 81.28 years = 2029.28 
So, subtracting 7 years from 2029, we know Messiah has to return by 2022 for the prophecy to be accurate.
Guess what?
The prophecies never fail.
Now that we know these simple, biblical ways of calculating prophetic time and normal time, we need some keys within the rest of the Bible to illuminate to us when and what we might expect to see around us as to give us a clue as to when the last days, Daniel's 70th Week begins.
Here are a couple of good candidates!:
Leviticus 25 "The Sabbath of the Seventh Year" 
25 And YHVH spoke to Moses on Mount Sinai, saying, 2 "Speak to the children of Israel, and say to them: 'When you come into the land which I give you, then the land shall keep a sabbath to YHVH. 3 Six years you shall sow your field, and six years you shall prune your vineyard, and gather its fruit;4 but in the seventh year there shall be a sabbath of solemn rest for the land, a sabbath to YHVH. You shall neither sow your field nor prune your vineyard.5 What grows of its own accord of your harvest you shall not reap, nor gather the grapes of your untended vine, for it is a year of rest for the land. 6 And the sabbath produce of the land shall be food for you: for you, your male and female servants, your hired man, and the stranger who dwells with you, 7 for your livestock and the beasts that are in your land—all its produce shall be for food.
Leviticus 25:8-12  The Year of Jubilee 
8 'And you shall count seven sabbaths of years for yourself, seven times seven years; and the time of the seven sabbaths of years shall be to you forty-nine years. 9 Then you shall cause the trumpet of the Jubilee to sound on the tenth day of the seventh month; on the Day of Atonement you shall make the trumpet to sound throughout all your land. 10 And you shall consecrate the fiftieth year, and proclaim liberty throughout all the land to all its inhabitants. It shall be a Jubilee for you; and each of you shall return to his possession, and each of you shall return to his family. 11 That fiftieth year shall be a Jubilee to you; in it you shall neither sow nor reap what grows of its own accord, nor gather the grapes of your untended vine. 12 For it is the Jubilee; it shall be holy to you; you shall eat its produce from the field.
There is much commotion in church prophetic circles right now because a Jewish/Christian author, Jonathan Cahn has written a book about "The Sabbath of the Seventh Year" or Shemitah and he details the curious disasters that seem to occur every 7 years at the time of the Shemitah, most about the date of Elul 29 on the Hebrew calendar:
"The Mystery of the Shemitah" 
Also, most authorities agree the 7th Millennium begins with a Jubilee.
So, to find Daniel's 70th Week, we are looking for a place in time of an event so significant that it takes these scriptures and counting mechanisms and points to a date in time that defines when Daniel's 70th Week begins.
Notice the Shemitah scripture is 7 years.  Daniel's 70th Week is about a week of 7 years.
Notice the Jubilee prophecy that takes 7 sevens of years, or 49 years, and calculates a date which just happens to be the Day of Atonement.
Notice if we multiply a 30 day month by 12 months it = 360 days, and if we take that 360 days and multiply it by 7 years then we get 2,520 days.  Notice that 2,520 days divided by 2 = 1,260 days!
We have seen that 1,260 days in several scriptures.  7 times we have seen that length of days described.
Let's take the Jubilee scripture of 49 years and multiply that by the 360 day year and that = 17,640 days.
In Israel, in June 1967, there was a major event called the 6 Day's War which concluded on June 7, 1967.  Read about it here: https://en.wikipedia.org/wiki/Six-Day_War
Do you have a spreadsheet on your computer?
Great, then bring it up and put a date in the first cell of 6/7/1967.
In the next cell type in 17640.
In the third cell, add the first cell and second cell together and you get 9/23/2015.
9/23/2015 just happens to be the calculated day of The Day Of Atonement on the Jewish calendar for 2015!
Are you starting to see some coincidences?  These are very serious coincidences but there is more, much more.
Stay tuned for Part 2!