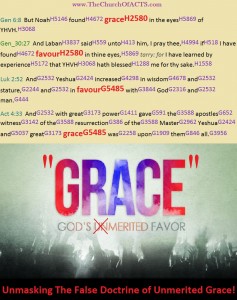 Very few people who believe in the Son of God know that in both the so-called "old and new testaments" the same exact word is used for both grace and FAVOR.
Extremely few churches teach their people Hebrew and Greek so the people would know the difference.
They do not want the people asking questions…
Now, we know for absolute surety that the Greek word G5485 "charis" and the Hebrew word H2580 "chen" are the same exact word by virtue of Acts 7:10 and Genesis 50:4 are discussing the same, exact passage in Genesis 50 where Joseph has found FAVOR in the sight of Pharaoh and Pharaoh grants Joseph his request based upon who Joseph is and his high standing in Egypt as having delivered the Egyptians from the famine in the land.
Charis and Chen are always merited FAVOR for having done something good, something right, something required, something expected, something useful, something desired.
But, bad Bible translators came along and due to their false theologies started inserting "grace" into various passages and tried to destroy the Bible's teaching on keeping the Commandments of YHVH God and His Son and meriting a good Judgment and then receiving salvation to eternal life.
Bad, corrupt theologians started creating doctrines based on the magic wave of God's hand and arm and hocus pocus unmerited grace was received for mere belief in God's Son when no such thing is taught in all the Bible from Genesis to Revelation.
Essentially, these corrupt theologians and bad Bible translators are functioning today as sort of Pharisee's and Scribes in their warping of all the truth in the scriptures just like the Pharisee's and scribes did in the days of God's Son and God's Son argued with them constantly over their perversions of the Scriptures and THE LAW.
We see very clearly in Revelation 22 how God's Son says the right to eat of the Tree of Life receiving salvation and eternal life are merited by virtue of keeping YHVH God the Father's Commandments.  That is what the faith of His Son IS keeping his Father's Commandments.
Revelation 22:14-15  Blessed are those who do YHVH's (His) commandments, that they may have the right to the tree of life, and may enter through the gates into the city. 15 But outside are dogs and sorcerers and sexually immoral and murderers and idolaters, and whoever loves and practices a lie.
Shalom!